Get free pdf piano arrangements of CHRISTMAS COMES BUT ONCE A YEAR!:
Piano version (PDF) Leadsheet (PDF)

You can hear an excerpt from Christmas Comes But Once A Year when you click on the cover above
Christmas Akademie:
Christmas Comes But Once A Year
can be downloaded at





and many other download facilities all over the world
Be today's avantgarde of contemporary Christmas music friends! Buy the recording on itunes or any other well-assorted download facility! Or download the free piano arrangement for playing it yourself!
More than half a million people have listened to Christmas Comes But Once A Year since Christmas season 2006 on the internet platform myspace.com, most of them in the US. The title was heard in more than 100 countries on all five continents. The song was played the Christmas program of the North German Broadcasting Corporation NDR in 2006 and a year later in the Daniel J. Harris' Soupy Gato Show Christmas special. It is still in the repertoire of Ken Kessler's internet radio Sounds Of Christmas.
Soon this song will be sung along with Irving Berlin's White Christmas and George Michaels's Last Christmas as one of the world's most famous Christmas standards.
WARNING: To save expenses that are badly needed on other spendings I (Mattias Arft) translated the following text myself. I ask you kindly to apologize if the language should become too bad in some passages (suggestions for improvements are highly appreciated!).
The song
The pop ballad Christmas Comes But Once A Year catches the magic of the Advent season and the Christmas season itself.
Children's choirs sing their lovely carols all through the Advent season. The people are spellbound by Christmas long before the holidays have arrived though they still must return in their everyday life time again and again.
But finally the solemn but bright mood of Christmas Eve has come, (here in Germany Christmas Eve is the peak of the Christmas holidays). Then the entire family gets together with grand parents, maybe neighbours and friends. Even though not nearly anybody shares the genuine meaning of Christmas, nevertheless it is a splendid opportunity to remember the wonderful things like freedom, peace, love and life itself.
And then the glee when the dream of a white Christmas has come true! Children will build a snowman and a snow maid and the chance for them to meet.
The musicians
Arrangement and musical director
Robert Lingnau.
Most important man of the enterprise (I know, he himself considers his contributions just as part of the body, but what would have been the German soccer Worldcup winner team in 1974 without Kaiser Franz?). He wrote the arrangement and managed the musical directing. Besides he played the electric bass and the percussion instruments and gave many precious impulses. He has been working for many renowned Jazz orchestras and musicians. Among them the bigbands of the BBC and the Hessischen Rundfunks, the Berliner Jugendjazzorchester, Jiggs Whigham (played with Bert Kaempfert) and the vocal quartet Berlin Voices (
Sarah Kaiser
is affiliated with them), Peter Herbolzheimer, Gitte Haenning, just to mention a few of them. For the current musical show Glanzlichter (Highlights) of Berlin's Friedrichstadtpalast Robert Lingnau contributes five arrangements. More about Robert Lingnau on his website
http://www.akkordarbeit.de/eng/index.html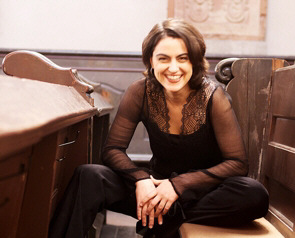 Sarah Kaiser
Solo singer
Sarah Kaiser.
With her velvety and warm voice the Berlin Jazz and Soul singer is the ideal cast to give the atmosphere of the song. In January 2007 she issued her fourth own CD. Excerpts from her CDs and more information on her website
http://www.sarahkaiser.de/english/index.html
.
Band Backing Vocals
Keyboards: Claus-Dieter Bandorf Soprano: Julia Mencke
Guitar: Arne Jansen Alto: Ulrike Knorr
Bass: Robert Lingnau Tenor: Günter Hügging
Drums: Jens Dohle Baritone: Klaus-Jürgen Thom
Directing: Dieter Himmer
Strings
Violin I: Annegret Hogan is the director of the strings. She is a wanted orchestra musician and soloist, who has turned to baroque music seriously through the last years.
Violoncello: Andreas Kock
Children's choir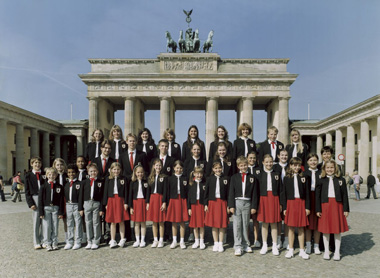 The Name
Christmas Akademie refers to the word "Akademie" that was used during the era of the "Wiener Klassik" for public concerts of orchestras and soloists. Wolfgang Amadeus Mozart used to call his concerts "Akademie" and so one might see the choice of the name as a small reference to Mozart in the year of his 250th birthday on 27th of January 2006.
But the main idea is that it stands for a public concert on Christmas, what one might feel is a contradiction for a studio project that has to bare without public concerts. But it is to be hoped that things may take a turn on a not too distant Christmas. In this way the concept of "Akademie" referring to the past does refer to the future as well.
The studio
Christmas Comes But Once A Year was recorded and mixed at
Marcus Fritzsch' Playground Studio
in Berlin this June who managed the recording himself.
Marcus Fritzsch
is an excellent singer as well who together with Dominique Lacasa builds the duo
Two Is One
that has issued its own album by the name of Breathe (find excerpts
here
). With Never Give Up they recorded the title track of the German TV series Berlin, Berlin. Besides this Marcus Fritzsch was Benny in the production ABBAFEVER and he still is Jesus in Andrew Lloyd Webbers musical Jesus Christ Superstar playing aside of Anna Maria Kaufmann.
The Label


Friedel Muders
had the necessary entrepreneurial and visionary boldness to issue Christmas Comes But Once A Year on his online label
FUEGO
.
The Producer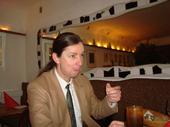 Matthias Arft

Me, Matthias Arft from Hamburg, I am the producer and songwriter. The title Christmas Comes But Once A Year came already to my mind by the start of the 1990ies when I was still studying Business Administration. At that time I used to pick up my old acoustic guitar now and then and played whatever came to my mind. It was then when I had the idea I should create my own Christmas song. And indeed a tune came to my mind, which I then carried on playing over years, but just on my own. A barely mediocre guitarist accompanied an even poorer singer. But in my imagination there was already a children's choir singing along with a choir and strings were playing.
But it should take nearly fifteen years until that piece of music could be recorded. And it required the acquaintance of the great arranger Robert Lingnau to turn my disordered imagination into real sound.